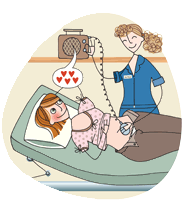 So we were at the doctor's today - and apart from the waiting waiting and then the ultra short doctor's visit, it went well. We found out that all the tests that I had to do at the first visit didn't show any abnormalities of any sort.
It doesn't seem like I've gained any weight as yet (
though my waist and lower tummy beg to differ
), and BP was good at 115/65. We heard your heartbeat again, and it was a good strong heartbeat at 166 beats per minute, and at some points when the doctor was trying to find your heartbeat, there were some "swooshing" sounds, which the doctor said was YOU MOVING AROUND!
How neat is that? Your dad couldn't believe it :)
Next up is the visit with the
OBGYN/Maternal & Fetal Medicine/Medical Genetics
specialist for a detailed Ultrasound Scan, and we'll get to see how much you've grown!