Now that you are at a ripe old age of 19 months,
you have in the past few weeks decided that you don't want to be carried so much, but would rather get around by yourself. This need even extends to when we are just walking from the back/side door over to the car - just several steps away. In short, every opportunity you get, you want to run wild and free. Which would be grand if there weren't other agendas in place.
So, there often needs to be some form of distraction ( ?bribery) or other to calm the savage beast who, instead of being let loose to explore, is now having to be confined to a car seat. This includes books, fruit, crackers, toys and yes, even an Asus PC that has your favorite shows on it. *sigh*. Desperate parents do desperate things, so judge me not. :)
ANYWAY, One of the books that we have in the car is your
Planting a Rainbow
book.. We first came across this story as part of the animated-stories-based-on-books series that is
Scholastic Storybook Treasures
. When I saw it at Sam's, I just had to
get it
for you.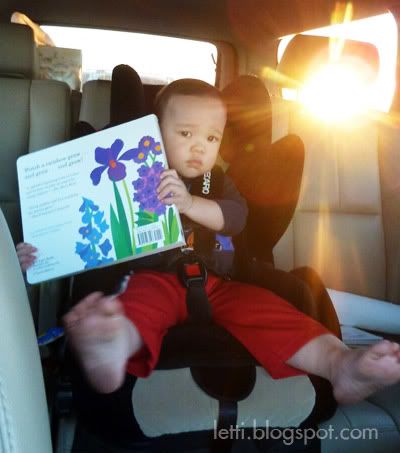 Sometimes it manages to distract you from your grievances, and it is awfully cute to see that, because it is a big lap-sized board book, you have learnt to keep your little legs up with feet flexed to act as a table and to prevent the book from sliding down your legs.. :)
Which is also why I have gotten you the
Snack and Play Travel Tray.
If you'll only let me put it around you.
Hoy.