Now that we are no longer going over to Grandad's house twice a day and trying to get all kinds of stuff done in between, there's a little bit more time to play around with, as far as play and "school" is concerned. There's not really any real structure to what we are doing.. after all, you are still only barely 3, but I try to look at all the various online resources and homeschooling blogs that I can, and there is such an ocean of information out there...
You love to paint, and are often asking for the different paints that we have - the do-a-dot set, the Crayola Paint brush pens, and the different tubs of paints. Which reminds me, I need to go by the Dollar Tree and get some more supplies!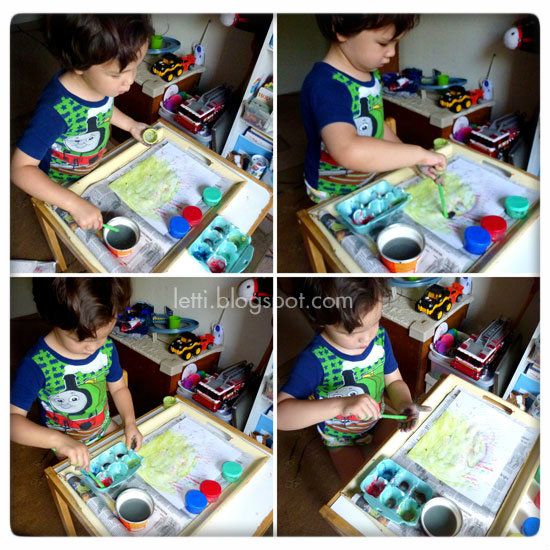 Another good ol' fall back is Play Doh.. especially when there are always endless new ways to play with them. Recently you have discovered that stamping different things onto a flattened playdoh yields different exciting patterns!
We have a bunch of mismatched magnetic alphabet and numbers set, which we keep together, and I thought it would be fun for you to do something you hadn't done in a while, i.e. magnetic dishwasher letters!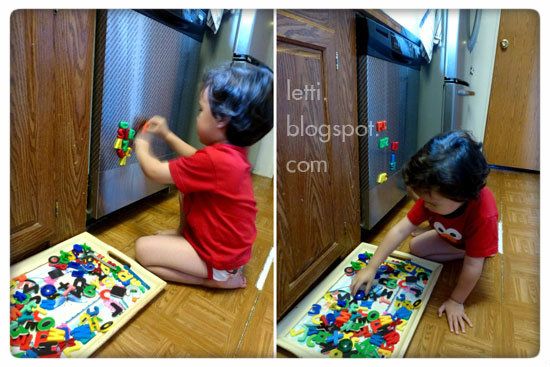 Last but not least, even though the hp Touchpad and its app store doesn't come close to other tablets/systems, there's still a bunch of free apps which are wonderfully done and which you enjoy ( er, other than the Nyan Cat, LOL ) ....and of course there's also sites like Starfall and MightyBook.com etc. :) Here's a note for you, though... I had to delete my Angry Birds from the tablet because you turn into a total and complete FIEND after you've played with that game for a while.. and I think the same goes for the talking cat and dog apps. Yoiks.
And yet, I made you an Angry Bird open faced sandwich for breakfast the other day :)