We went to see Dr. Maberry today for your ultrasound appointment. He assured us that everything was going well, and you were growing just as you should. The measurements estimated you at about 3lbs 12 oz right now. Like, he ain't heavy, he's my baby!! If you keep this up, you'll probably be a 8ish pounder!
The doctor even pointed out that you had hair on your head!
I tried out the "make a baby" program on the
VW Routan website
, putting in your mummy and daddy's pictures together to see what you would look like. Of course I know it's just silliness, but I thought it would be fun.
On the first run, you came out looking very Asian!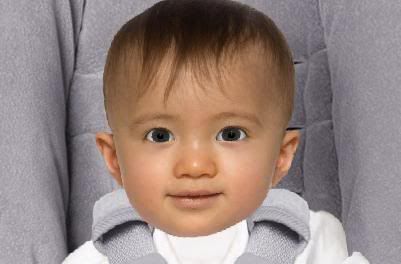 Then I ran it again, and this time you looked kinda mixed/ more caucasian !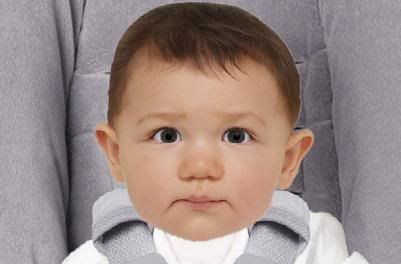 I know that both your daddy and I as well as your aunts, uncle and cousins just can't wait to see you in about 9 weeks or so!!
I know it's getting nearer too, because I've been getting some Braxton Hicks contractions on and off, a few times a day, not lasting very long, but more when I'm feeling tired or towards the end of the day/when I've been on my feet for a long time etc.
We see the regular OBGYN tomorrow for the regular checkup, and probably on to watch the Epidural Video so that I can get the Informed Consent form signed so I would have the option of having an epidural as a form of pain control.