Week 3
Mummy has been bringing you over to Grandad's on Friday mornings for the ladies' bible class, and everyone loves you to bits, and can't wait for their turns to hold you :)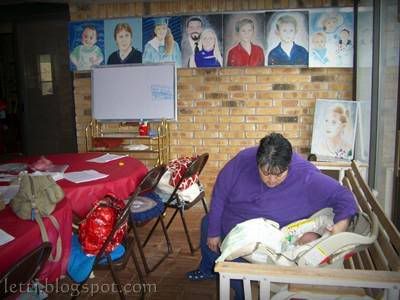 We brought you to George's Asian food place, and even though you couldn't quite try out the excellent fare there yet, we're sure you would lurve lurve lurve it, like your mommy does.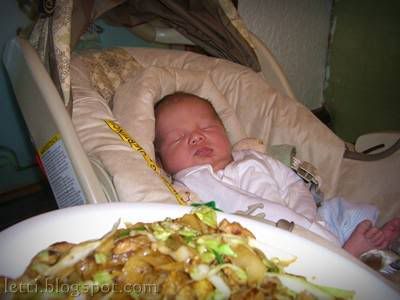 We've been waiting patiently for you to crack your first "awake and alert" real smile, but as for now, you often sport a pretty "pensive" look, absorbing everything around you like a little sponge... ( Maybe you're wondering why you only have one sock on .. ) You've also been sleeping on the bed with mommy and daddy - it helps keep mummy sane that way, to nurse you lying down, because she is just totally exhausted and sleep deprived, and saves BOTH of you a lot of wear and tear. One night you turned onto your side AND THEN onto your stomach, and totally freaked your daddy out.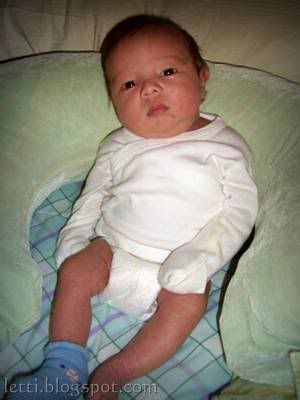 You seem to enjoy the outdoors, and we brought you out in your little carrier out to get the mail. Mummy had to shield your delicate skin from the sun with a cowboy hat. We promise we'll get your own cowboy hat soon.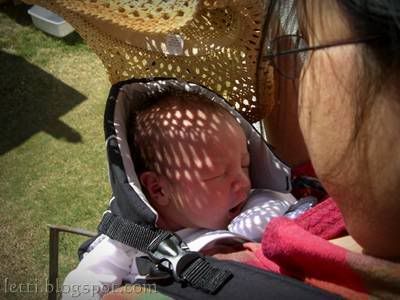 You're kind of fickle minded when it comes to diaper changing. Sometimes you don't mind it so much, but sometimes it seems like the worse torture in the world...especially when you're desperately hungry and would rather have a full stomach than an empty/clean diaper. And you've started crying with tears, which totally breaks my heart.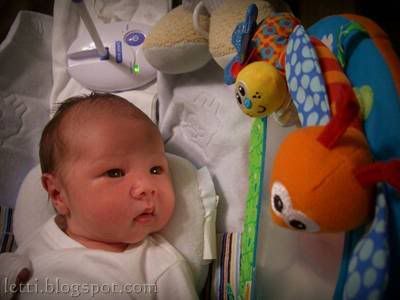 However, one of the things that you love is the little mirror thingy that we've set up by your diaper changing area, especially the little colorful dragonfly, which keeps you mesmerized. You've even tried to swipe at it!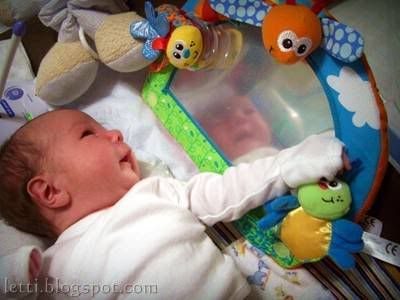 At the church family / baby room , however, we have to figure out different ways to distract you during diaper changes :) Oh, and btw, Daddy's been practising, and getting better at changing your diapers!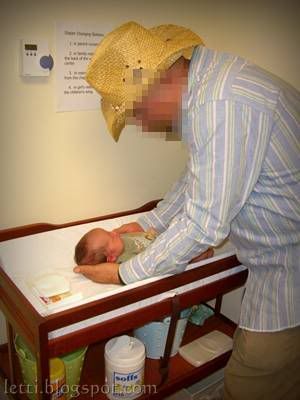 Another way daddy's been bonding with his little man, is swinging on the swing outside and giving mommy a little breather and a chance to catch up with like, a shower, for instance. You love swinging with daddy and often drift off into a blissful slumber.. You look sooo tiny next to daddy.. no worries, you're growing bigger and stronger every single day!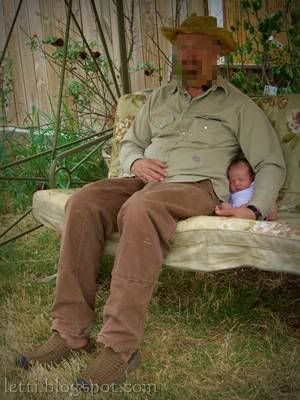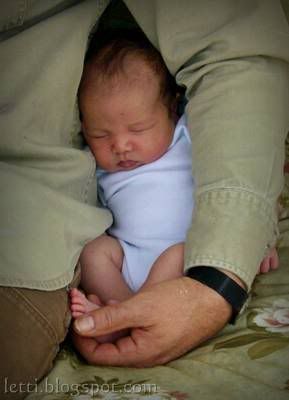 Meanwhile, you need all the rest you can get, learning and assimilating all the information you are absorbing.. being a baby and learning everything about the world around you is hard work!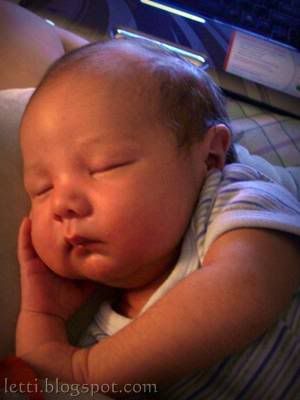 Daddy Quotes :
"Look at 'em jowls!"
"I can't wait to see how much he's grown.... Maybe we can weigh him on the grocery scales at Walmart"
"I wish everyone could see how much cuter he looks in person!"