Sometimes when you're playing with your toys, mummy has
Nick Jr
going in the background on TV. We watch
Dora
,
The Wonder Pets
,
Ni Hao Kai Lan
and
Max and Ruby
. Which one is your favorite? It is hard to tell, but I know which characters are your favorites.
You love the
Map from Dora
, and
Moose
, who is the mascot for the Nick Jr channel.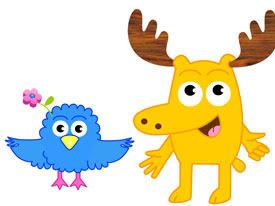 Moose
comes on between programs and usually plays a puzzle or sings a song, and each time when you hear the Moose's voice, you stop what you're doing and start watching the TV!
The same goes for the
Map
.. You might not pay attention to any part of Dora, but when Map comes on and sings his little "I'm the Map" jingle, you immediately turn to the TV !