I have no idea how I learned how to use chopsticks as a child. Probably had chopsticks stuck in my hand and just went with the flow.
But THIS I know - I LOVE using chopsticks. It's an art, it's a skill, it's full of culture...and it's FUN!
ANYWAY, you've been wanting to use MY chopsticks for the longest time now...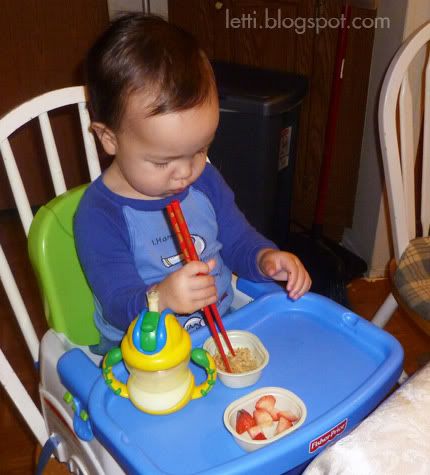 You would try to grab at them while I was eating, or grab them away from my hand if I was feeding you with them.
I did not want to let you go crazy with the ones we have at home, which are way too long and pointy - and hence, scary - for you to play/learn with, so I got you a pair of Pororo Edison Chopsticks ( albeit
"training"
chopsticks ), from
Amazon
.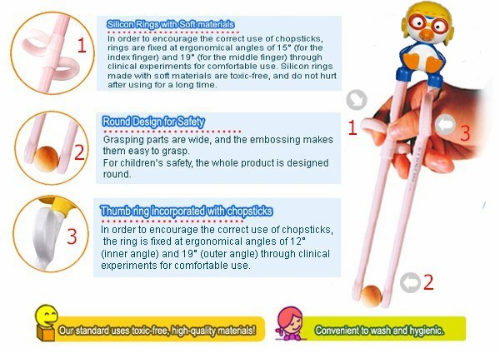 I have to admit, I have no idea who
Pororo
is, but he's awfully cute.
We got them in the mail today, and tried them out. I had to put your fingers in the little loops and show you how to use them. It wasn't too successful, this first try. Once I had the food in the chopsticks, you could get it to your mouth and eat it with no problem, but trying to figure out the opening and closing of the chopsticks to grab the food in the first place is gonna take probably another time or so to get it right. You kept wanting to stab the food like a fork.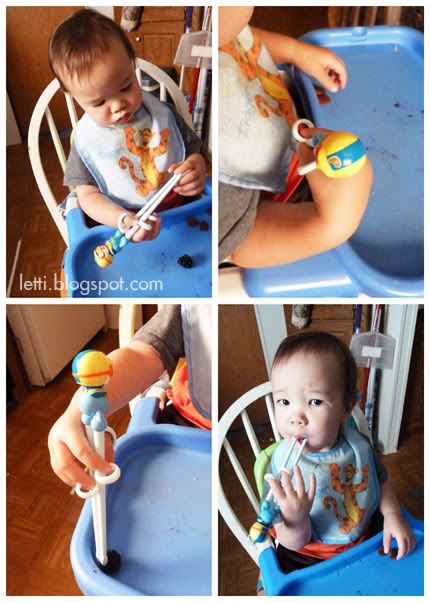 No worries. With some practice, you'll be a pro in no time, and I'm sure you'll be loving it. :)
Like this little girl.