We have started reading
a
few
potty training
/
introduction
books, and this you really like this one.
You get especially jubilant when the little boy in the story finally "tinkles and toots" in his potty and his parents join in his exuberance.
Your second favorite book is THIS one. You'll pick it up and say "Read Michael Potty book!! Read Michael Potty book!!"

And we
bought you a
Fisher Price froggy potty
which was on rollback at Walmart for about $9.00.
So far, it's mainly "getting to know you" sessions with Mr. Froggy and plenty of encouragement and reminding you to let momma know if you were needing to use the potty for pee pee or poo poo.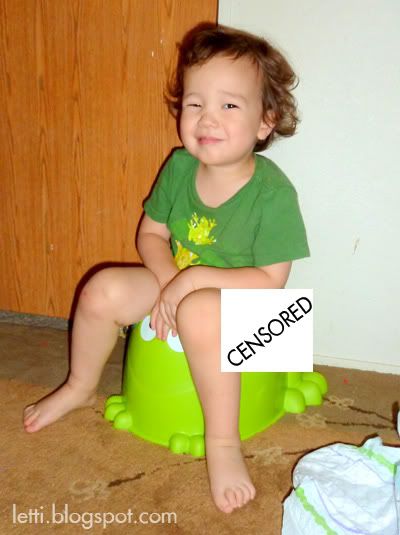 I'm not sure if you are quite clear of the concept yet or not, because you would sit on the potty for a bit, and then I'd put your diaper on, and you would pee/poo right away in the diaper.

Today, you had your diaper off for a while, and suddenly looked at me and said, "Momma, poopoo diaper" ( which is what you say after you've peed when you have a diaper on ), and proceeded to pee on the rug. I immediately push the potty under you for you to sit on, and let you finish up in the potty. I hope something clicked when I made a whooped hurray and all like that, but you were a little nonchalant, although curious about the liquid in the potty.

*sigh* but no worries.

With a measure of patience, and some time, we'll get there :)