Okay, so at first we started "safely" with the "paint in the ziploc" painting angle...
But then you weren't really very into "safe" painting and so I thought, "oh, well" and broke out the paints and the ( LOL ) apron.
You experimented with different ways of holding a paint brush..There was a lot of pointillism going on..
You experimented with painting on your hands,
and your fingers...

and eventually, using your own face as a canvas. That's some thinking outside the box, now :)
And of course, you HAD to threaten to taste the paint, otherwise, this painting session would have been, as we say in Malay, "tak sah" aka "invalid"
It was hilarious too, that when you decided you were done with painting, you fell onto the floor, and started laughing loudly on your back, just like what they do on Peppa Pig!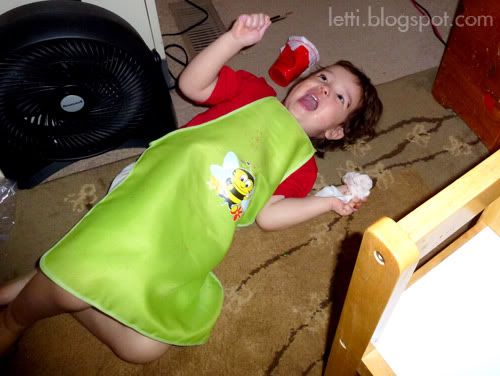 Literally ROFL :)