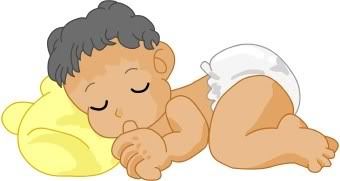 The weather in Texas has been scorching, reaching into the 102s and 103s during the day. You often get too warm even in your onesies, so when we're at home ( and out of the public eye ), we take off your clothes and just let you lounge in your diapers. I think you are glad for that too, because your naps are longer and you seem less fussy.
You have been sucking on your hands/fists for a while now, and the pace seems to have picked up. You're either discovering your hands or I must have been a bad mom and keeping you hungry. You often raise one fist or the other, and it seems like you're studying them, although it doesn't really look like you're focusing on your hands. Oh well.
Other than that, you're growing by leaps and bounds and getting stronger. I hadn't done tummy time with you in a while because you absolutely hate it, but when we tried today, I was very delighted and surprised to see you lift your head so much higher! Yippee for baby!
We watched some Baby Einstein on the puter on You tube today, and you were quite mesmerized. I guess the people over at Baby Einstein know what they're doing.
And now for some daddy quotes..
"It's like he has this GPS on you ( mummy ) . Even if he is sleeping and you leave the room, he knows and wakes up!"
"I just wanna squeeze and squeeze him, he's such a cherub"
"You know, I'm getting attached to the kid. I'm serious." * AWWWW *
"He was such a skinny kid when we brought him home and look at him now, what a chunk! Must be all this USDA Grade A milk he's getting from his momma"